The Amazon Effect is Changing Manufacturing
January 14, 2019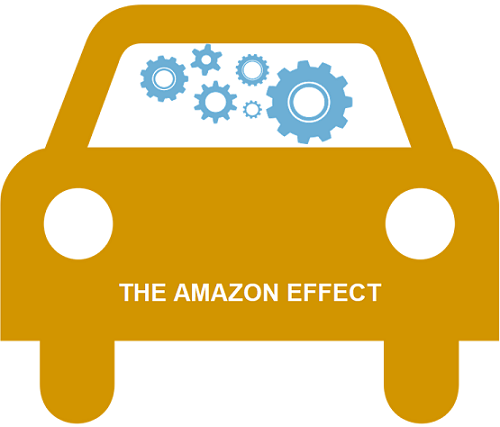 The "Amazon Effect" is a term many have heard, but what does it mean? While it can mean different things to different people, in general, it refers to the phenomenon of how consumers' interactions with Amazon are driving new expectations for how buyers and suppliers interact with businesses, including manufacturers.
With Amazon, we search for what we need, and receive a listing of items with starred rankings alongside customer reviews. Once we decide to buy, we may purchase that product with Amazon One-Click if Amazon has our payment information on file. Once the order is placed, we receive a link to track the product from the moment the order is placed to the moment it is received. Convenient, personalized, and friction-less. It is exactly the type of experience customers want.
The Amazon Effect is prompting many manufacturers to kick-start their digital transformation journeys. According to recent research, more than 8 in 10 business buyers want the same experience as when they're buying products for themselves. Consider the following:
Almost 75 percent of business buyers expect vendors to personalize engagement to their needs
More than 66 percent expect Amazon-like buying experiences
Two-thirds have switched vendors for a more consumer-like experience
Business-to-business buyers want to search and discover their options with a multitude of products all in one place before seamlessly placing an order online, that may be tracked up until the moment it is received. Manufacturers are now expected to provide such visibility to their end users as well as a more holistic and simplified buying experience.
To this end, manufacturers must think about how they can add and extend value beyond simply delivering a product. This might include providing new services around products such as after-market servicing. Customization can also give manufacturers a key differentiator and some are even testing out make-to-individual production models. For manufacturers, this means being able to accommodate engineer-to-order, configure-to-order, make-to-order, and assemble-to-order manufacturing modes to meet these specified requirements.
Make no doubt about it, the Amazon Effect is driving significant change in how manufacturers operate. As manufacturers face pressure to deliver an Amazon-like experience, they must also streamline back-end operations via Industry 4.0 approaches, including the Internet of Things (IoT), artificial intelligence and machine learning, robots and automation, and big data and analytics.
How Industry 4.0 helps manufacturers compete in an Amazon era:
Drones make quick work of the previously manually intensive job of inventory counts.
Connected factory floors support improved operational awareness. When machines show signs of performance degradation or maintenance needed, workers can step-in to keep lines running smoothly, avoiding major mechanical breakdowns.
Smart gloves with 2D bar code technology track and trace parts. Haptic feedback provides user confirmation that the right product has been scanned, providing a new level of process quality and efficiency.
Smart factories with integrated IT systems provide relevant data to both sides of the supply chain, leading to increased production capacity. Artificial intelligence allows the opportunity to adjust current processes or predict future behavior based on past trends.
Robots and other automated technologies optimize production workflows, inventory, work-in-progress and value chain decisions.
The Amazon Effect has done far more than condition consumers to a new way of transacting. It is ushering in new ways of working, dictating changes from the front-end to the back-end of business. We have become used to immediacy and intuitiveness of transactions, and we now expect the same from processes and products, requiring faster innovation from manufacturers.
To keep up with these new demands and expectations, manufacturers must embrace digital transformation—supported by Enterprise Resource Planning—to liberate the flow of information and work product across the enterprise. This increases production and transparency, while decreasing costs and down time—with the ultimate goal of satisfying customer expectations.
Hiskey, Terri. (2018). "The Amazon Effect – How Manufacturers Can Gain Back Momentum". Retrieved from https://www.manufacturing.net/article/2018/10/amazon-effect-how-manufacturers-can-gain-back-momentum.