Infotainment Systems Assist Hangry Drivers
March 28, 2019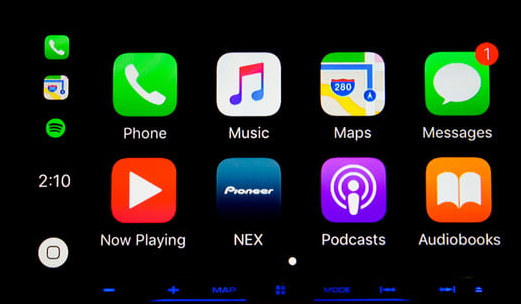 There seems to be no stopping the progression of technology in automobiles. Your vehicle infotainment system may now offer your favorite restaurant app. Some of the restaurant chains participating are Dominos, Starbucks, Dunkin' Donuts, Applebees, TGI Fridays and iHop.
People spend an average of 72 minutes in their cars every day. That is almost 440 hours per year! This is time that restaurant chains were unable to have direct engagement with their customers. Knowing this, automakers and tech companies have teamed up to offer consumers a platform to order their favorite food and drinks or make table reservations.
Consumers who are members of a restaurant's loyalty program have the ability to link their loyalty account to their vehicle. Once an account is linked, consumers are able to quickly order. The infotainment center will store payment information, preferences and order history.
By transforming time spent in the car into a business opportunity, restaurants can now reach customers at the point of decision, offering promotions, the ability to order and pay, make reservations, or to find a brand's closest location(s) and use their enabled navigation system to get directions, all from the in-car display. These new connected capabilities make it possible for restaurants to generate an entirely new revenue stream.
Brands also have the option to deliver offers that are only available through the car, motivating people to use the technology and encouraging them to try new brands with incentives for creating an account or placing an order. This strengthens existing customer relationships and encourages new ones, stimulating the adoption of loyalty programs and ultimately increasing revenue.
By giving restaurants the ability to target promotional activities by audience, category, time of day, and event, these automotive commerce platforms let brands offer customers what they want, when they want it. The technology incorporates information like a vehicle's location and the time of day to add context to interactions and transactions. This allows restaurants to deliver situationally-relevant promotions, such as offering a pizza coupon at dinnertime if both front seatbelts are buckled.
And when a brand is introducing a new product or opening a new location, the platform provides them with a new channel for informing the consumer, with the option to present offers and information in their vehicle.
One of this technology's biggest benefits for restaurants is data. The data gives insight into how their customers interact with the brand. Restaurants can measure the effectiveness of promotional activities and determine how new products are being received. Companies are then able to incorporate this information into their strategies and planning, adjusting as needed to increase success and ensure that they are delivering the new features and products their customers really want.
With this technology benefit is a growing concern of distracted driving. Presumably, these in-car apps should only be used by passengers while the car is in motion, or drivers when the car is parked.
According to a 2015 survey conducted by AT&T with a sample of over 2,000 US respondents, "7-in-10 people engage in smartphone activities while driving" including social media (40%), web browsing (30%) and even video chatting (10%).
So…eyes on the road, enjoy less hangry driving and safe travels.