Aviation Looking to Automotive For New Ideas
April 11, 2019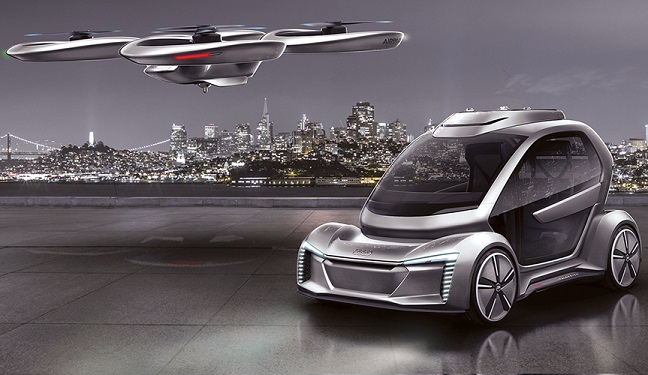 Aerospace companies are frequently teaming with automotive specialists to innovate. Within the last few years, collaboration has grown with the emergence of the urban air mobility (UAM) market. It is becoming increasingly clear that the crossover between the two industries will be necessary for innovation to proceed.
Electric-powered vertical-takeoff- and-landing (eVTOL) air taxi startup Lilium, hired renowned car designer Frank Stephenson as its head of product design in 2018. He sees the automotive industry as a natural source of inspiration—particularly in terms of meeting high production demand.
"The aerospace industry, and particularly those of us engaged in developing UAM, can learn a lot from the automotive industry," says a Lilium spokesperson. "Independent studies of the UAM market suggest there will be the need for a significant number of these aircraft, meaning they will need to be produced at volumes more akin to those in the automotive sector."
Aside from production and supply chain practices, UAM is blurring the lines between aerospace and automotive even further. Innovators such as Elon Musk are exploring both autonomous cars and aircraft, while large tech companies including Google and Uber are dipping their toes into both industries to explore how autonomous vehicles can create new business opportunities.
Lilium says that although it plans to operate its aircraft with a pilot at first, the Lilium jet is designed to operate autonomously. A company source says Lilium will be looking to learn lessons about technology for autonomous driving from the automotive industry.
According to Ella Atkins, professor of aerospace engineering at University of Michigan and founder of Autonomous Aerospace Systems Laboratory, both cars and aircraft likely will become increasingly autonomous over time.
"In terms of perception and decision-making, there's a lot of overlap in that both types of vehicles need to be aware of what's around them, be in communication with other vehicles and make safe decisions," says Atkins. "I think a lot of deep learning and decision-making based on other traffic work that is happening in the auto industry—in particular with lidar [light detection and ranging] vision systems and their fusion—is going to move into the skies."
Atkins says smaller unmanned aircraft systems (UAS) such as the Lilium jet, which will be flying in close proximity to buildings and other UAS, will use these types of technologies to maintain safe clearance and coordinate location of other aircraft independent of sensors. Meanwhile, Atkins says automotive technology development know-how is also making its way into energy systems for aerospace.
"There's a ton of crossover because everyone wants higher-energy-density batteries that are fast to charge," she says. "That gets into materials, operations, monitoring technology, safe handling—all of those things."
In addition to batteries for UAM vehicles, aerospace companies are looking to automotive specialists to develop energy systems for both commercial and defense applications. Liebherr Aerospace and Transportation partnered with GM last year to introduce fuel-cell technology into aircraft on board power-generation systems. In late 2017, Airbus began a collaboration with Williams Advanced Engineering—the engineering and tech arm of Formula One racing company Williams Grand Prix Engineering—to explore potential areas for technical collaboration.
A representative for Airbus says the company is looking to Williams because of its cutting-edge research on structures, batteries and electrical power. Although Airbus is not releasing specific details about the progress of the collaboration, it is looking to leverage innovations within its Zephyr High-Altitude Pseudo-Satellite program that could also apply to commercial aviation in the future.
Airbus also has collaborated with automotive partners on UAM on passenger experience. The company worked with Audi last summer to provide ground transportation to its on-demand helicopter-booking platform, Voom. If successful, this service could presumably be offered for the OEM's CityAirbus eVTOL, which made its public debut last month in Ingolstadt, Germany.
Atkins says other traditionally automotive-focused companies such as Uber, which has partnered with eVTOL makers Bell and EmbraerX, are looking to get in on the ground transportation element of UAM. "Something that puts them in a really good position with respect to UAM is that if you fly people from point to point, likely those planes or VTOL UAM platforms will need secure areas to land, take-off and handle passengers. So, it is absolutely the case that the only way that's going to be convenient is if there's, for example, an Uber car delivering someone to take-off and ready to pick someone up when they land," she says.
AI And Passenger Experience
As for the passenger experience within autonomous vehicles, Atkins says there will be major differences between how the human-AI interface will need to work. "In cars, we all know how to drive, and we all know what the car is going to do because most of us have been riding in cars all our lives. In planes, it's going to be quite different because we're used to sitting in the back with a TV in front of our faces, but we're not used to being in a small vehicle zipping low over cities," says Atkins. She adds that the industry will need to figure out how to bridge the divide by sorting out how autonomous systems will interact with passengers in aircraft versus the way that is being handled in cars.
With the move toward autonomous vehicles, cabin design within cars may begin drawing more inspiration from aircraft cabin seats in terms of storage, space for eating meals and other leisure activities. However, when it comes to the experience of sitting in an aircraft cabin, aerospace designers have been taking inspiration from the auto industry for years—particularly for business- and first-class seating products.
Boeing's seating joint venture Adient Aerospace says its premium seating concepts—such as the Ascent business-class seating system it will debut at the Aircraft Interiors Expo this month—draw inspiration from luxury vehicles through design choices such as "well-managed gaps and removing fasteners from the passenger's line of sight," creating a feeling of attention-to-detail similar to that experienced in luxury vehicles.
UK-based design house Factory-design—which has created specialty aircraft cabin interiors for carriers such as British Airways, Etihad Airways, Delta Air Lines and Scandinavian Airlines—has drawn styling cues from automotive in everything from hand-veneered wooden tabletops in business-class lounges to premium aircraft seats with cross-pattern stitching and side bolsters. According to Adam White, partner at Factorydesign, much of the automotive inspiration for aircraft cabin design is to create a feeling of luxury rather than replicating specific design details from cars.
"What we do is take the persona or the character," says White, pointing to the example of touchpoints passengers interact with such as interface controls to recline and adjust seats, which he says have become increasingly refined in their design. In business class, White says one area where aerospace has drawn ideas from automotive is lighting.
"If you picture cabin and seat lighting as recently as a few years ago, there was really very little other than the main cabin lights, the reading lamp and perhaps a sort of ambient light on the bulkhead, whereas in the automotive world, at night you could change the whole color of your cabin, and there was edge lighting around controls," he says. "We're getting a lot more of that cross-fertilization, where LED technology is increasingly making the whole theater of the seat that you sit in more exciting and more like a Mercedes-Benz S-Class, for instance."
The VIP cabin collaboration between Lufthansa Technik and Mercedes-Benz unveiled in 2018 drew on the S-Class and featured dashboard-inspired black panels and carbon-fiber elements. Lightweight materials such as carbon fiber have an obvious appeal for both the automotive and aviation industries.
"The world of performance cars has been obsessed for decades with creating the strongest, lightest possible product—hence the enormous development they've made in composite materials," explains White, adding that the aviation industry has increasingly become sensitive to the weight of products in the cabin. "If you stand back and look at a first-class suite [or] even a lot of the old business-class products, they're mammoth structures, and there's a considerable amount of weight in them. It would simply be unthinkable to approach design in that way in a supercar, so there are extremely valuable learnings from the automotive industry, particularly at the high end."
When it comes to the materials themselves, White says designers are restricted within aviation, given the high level of testing required, but the industry is still striving to push the envelope with materials. Adient Aerospace suggests that certain steel alloys used in automotive might offer advantages over conventional applications of aluminum alloys in aerospace. Conversely, the company says some materials offering weight advantages within aerospace provide challenges when scaling to automotive volumes.
Other big differences that must be considered for aircraft-cabin interiors are aerospace's strict flammability standards and the durability required. In terms of maintenance, "the bar is high in automotive but can be higher in aviation," an Adient Aerospace spokesperson says. "For example, a typical business-class seat can average 20 cycles between the seated and bed position every day. Most of us don't adjust our car seats nearly that often."
"At the very high end, if you go back a few decades, a supercar really was a very specialist product—whereas now, there's a surprisingly large number of extremely refined and very fast vehicles that are relatively affordable to a lot of people," says White. "The market has grown significantly, and it can only grow if manufacturing gets better. Aviation and automotive have kind of reached a point where the interests are mutually self-serving."
Bjerregaard, Lindsay. (2019). "How The Auto Industry Is Inspiring Aviation Innovation". Retrieved from https://www.mro-network.com/emerging-technology/how-auto-industry-inspiring-aviation-innovation.