Soybeans for Cars?
September 21, 2018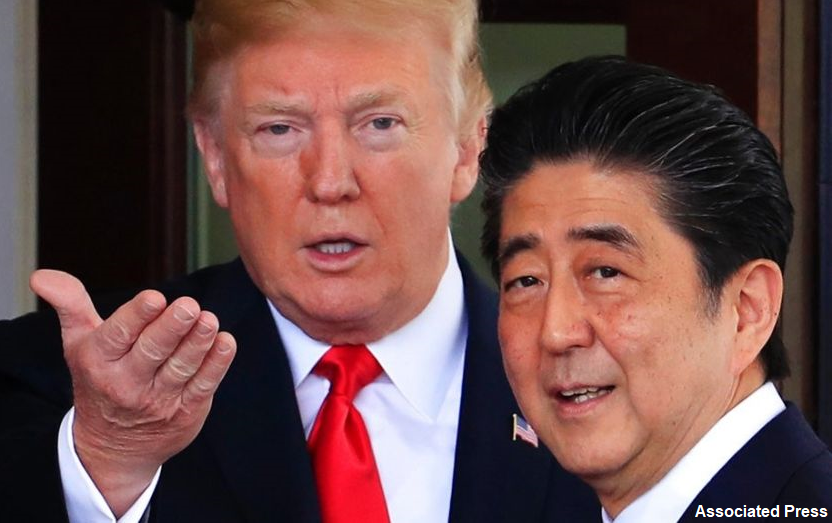 Japanese Prime Minister Shinzo Abe will meet with U.S. President Donald Trump next week in New York, a spokesman for Japan's government said Friday. Their trade negotiators will also hold a fresh round of talks. The meeting will be on the sidelines of the 73rd United Nations General Assembly.
The two will dine together ahead of the meeting, a Japanese government official said. This is the eighth meeting between Trump and Abe.
There is a lot to discuss, with growing expectations that the U.S. will tell Japan to stop exporting so many cars to the United States. Trump does not like that Japan runs a $69 billion trade surplus with the U.S., and has threatened to impose a 25% tariff on imports of Japanese cars and parts.
Ultimately, Trump is thought to want a bilateral free trade agreement with Japan, which has been less keen on the idea.
Toshiro Muto, the former deputy governor of Japan's central bank, told Reuters that the country had to avoid export curbs, as he could not "think of any sector in Japan that can replace its giant auto industry as a key driver of growth." However, another government official said the country would have no choice, given the fact that the U.S. is Japan's closest ally and guarantor of its defense.
The imposition of U.S. auto tariffs would hit Japan hard, as cars account for around 30% of the country's exports to the U.S. Japanese carmakers might see their profits halved, and Abe would likely have to retaliate with tariffs on American imports.
So what can Abe do to ward off the threat? Jesper Koll, the CEO of the Japanese branch of exchange traded fund WisdomTree, told CNBC that Japan could offer to buy more U.S. imports, including soybeans and beef, which could give Trump a boost in the Midwest ahead of the midterms.
However, Abe said in a Thursday interview that he would "defend Japan's national interests to the hilt," which includes going no further on agricultural products than the provisions of the Trans-Pacific Partnership (TPP), the multilateral deal from which Trump extricated the U.S.—and which the president is these days considering rejoining.
Abe has invested in building a personal relationship with Trump, who tweeted his congratulations to the Japanese leader after Thursday's election. Trump stated, "I'm looking forward to many more years of working together. See you in New York next week!"
Meyer, David. (2018). "Soybeans for Cars? How Japan Could Save Its Auto Industry in Upcoming Trade Talks with Trump". Retrieved from http://fortune.com/2018/09/21/us-japan-trade-talks-trump-abe/.