Safety and Testing Standards Needed for Autonomous Vehicles' New Seat Configurations
January 28, 2019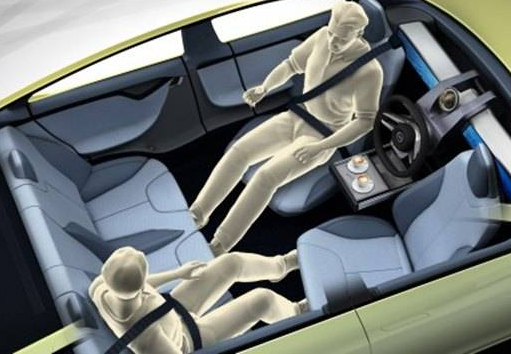 Safety systems and structural designs must be re-imagined for self-driving vehicles that will differ from human-driven cars and trucks.
Experts believe vehicles that drive themselves, sense their environment and communicate with infrastructure and other cars and trucks will dramatically reduce accidents and an estimated 40,000 annual traffic deaths. But, the U.S. Department of Transportation will require the same level of occupant crash protection from autonomous vehicles as it does from their conventional counterparts.
The traditional process to develop vehicle crash-worthiness standards is for the government to conduct research and issue rules.
The challenge for autonomous vehicle developers is meeting crash standards without an approved crash-test method or next-generation safety standards when there is no consensus on how interior seating will be arranged or how it will interact with occupant restraints.
Some companies are trying to shape those standards so they can get a head start in the competitive autonomous vehicle market, while others are waiting for government rules before they fully commit to specific seating arrangements, according to former safety regulators and people involved in efforts.
With the help of Humanetics, a leading maker of crash-test dummies and instrumentation, a handful of automakers and suppliers have formed the Advanced Driving Systems Consortium to develop safety and testing standards for new seating configurations.
The goal is to accelerate agreements on a common standard that NHTSA and the rest of the industry can use for next-generation vehicles.
Otherwise, said Humanetics CEO Christopher O'Connor, "every car company could do something different and it's like the Wild West. Everybody would have a different test, a different process. And how would you know what is right or wrong? And God forbid, if somebody gets killed, they'd come back and say, 'Well, you didn't do the test as good as GM did, or Volvo or Tesla did it."
O'Connor said several safety-conscious automakers and tech startups interested in near-term deployment of autonomous vehicles approached Humanetics for help in accelerating standards development for new seating configurations because the company is at the center of the safety ecosystem, working with automakers, regulators, universities, medical institutions and others.
A number of manufacturers have identified reclining, face to face seating and rear-facing positions as likely seating configurations in self-driving cars around which safety standards need to be developed, said Mark Rosekind, chief safety innovation officer at Zoox and a former NHTSA administrator.
None of the new seat positions are necessarily safe in an accident because current standards for seats, seat belts and airbags are based on passengers sitting in an upright position and facing forward.
O'Connor said the consortium will use virtual models and modified crash-test dummies to test and gather data this year on how the interior systems hold occupants under the new conditions.
Repeated testing will be used to refine the safety systems until the vehicles offer the same level of protection as today's cars and trucks. The Advanced Driving Systems Consortium has repeatedly briefed NHTSA about its plans, and it hopes NHTSA will use the group's seat configurations and standards to set industry regulations, O'Connor said.
Last year, NHTSA issued a $900,000 contract to the Transportation Research Center, an independent test operation and proving ground in East Liberty, Ohio, to study the biomechanics of autonomous vehicle seating scenarios using cadavers. No one at the agency was available to discuss the project because of the federal government shutdown.
The consortium, which has met dozens of times since launching in June, is being kept small at the start to maintain nimbleness, but could add members, O'Connor said.
There have been concerns expressed that this is a closed door approach of a group of individuals seeking profit and proprietary interests. On the other hand, David Friedman, Consumer Reports Vice President of Advocacy and a former acting administrator at NHTSA, said the Advanced Driving Systems Consortium could provide value if the data it gathers is credible, widely shared, involve third-party validation and are "not used to argue for weaker safety standards."
Kulisch, Eric. (2019). "Reimagining Federal Safety Standards". Retrieved from https://www.autonews.com/mobility-report/reimagining-federal-safety-standards.