Pack Up, Let's Fly Away!
August 17, 2018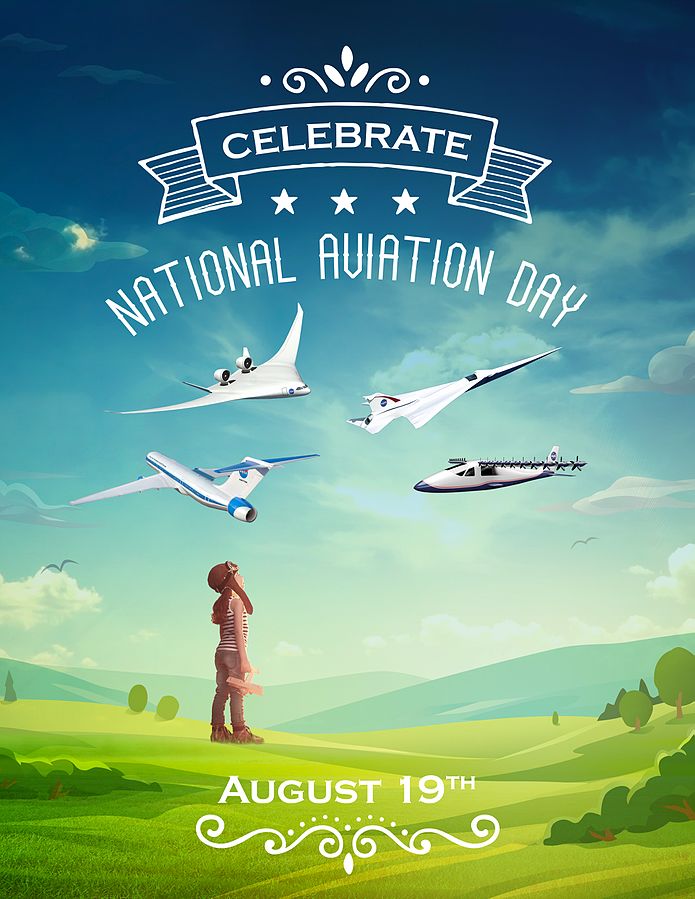 If you are flying to your vacation destination or accepting a package delivery, aviation touches all of our lives every day.
Long before there were commercial jet airliners, Franklin Delano Roosevelt issued a presidential proclamation in 1939 which designated the anniversary of Orville Wright's birthday to be National Aviation Day. Mr. Wright, born in 1871, was still alive when the proclamation was first issued, and would live another nine years.
The proclamation allows every sitting U.S. President to proclaim August 19 as National Aviation Day each year, if desired.
National Aviation Day is not a federal national holiday but rather an observance to celebrate the history of aviation. Find an air show, museum or an aviation event this weekend to commemorate.
Facts and Quote:
Orville and Wilbur Wright had their first successful controlled flight on December 17, 1903 of an airplane for 12 seconds in the air. They called it their flying machine which later became the first controlled fixed wing aircraft.
The first scheduled commercial airline flight was conducted on January 1, 1914 by Tony Jannus.  The plane flew between St. Petersburg, Florida and Tampa, Florida. Over the next four months, the plane carried 1,200 passengers who had each paid a fare of $5.
The Antonov An-225 Mriya is the longest and heaviest airplane ever built. The 640 ton plane was built by the Soviet Union's Antonov Design Bureau in 1988. It was used to transport the Buran space shuttle and to transfer meals to  American military personnel stationed in Thumrait, Oman.
Andre Borschberg holds the record for the longest non-stop solo flight in the history of aviation. Solar Impulse 2, a solar plane, flew from Nagoya, Japan on June 28, 2015, reaching Hawaii on July 3 2015, for a distance of 7,212 km and flying time of 117 hours, 52 minutes.
"The stars seemed near enough to touch and never before have I seen so many." – Amelia Earhart, 1st female aviator to fly across Atlantic Ocean.
There have been hundreds of airline slogans in the past years. Some airline slogans were funny, some were memorable, but many were forgotten.
Guess These Airlines' Tag Lines:
1.  "Keep Climbing"
2.  "Fly the Friendly Skies"
3.  "To Fly. To Serve."
4.  "If it Matters to You, it Matters to Us."
5.  "World Class, Worldwide."
6.  "The Proud Bird with the Golden Tail"
7.  "Something Special in the Air"
8.  "You're Going to Like Us"
1.  Delta
2.  United
3.  British Airways
4.  Southwest
5.  Air Canada
6.  Continental
7.  American
8.  Trans World