Nationwide Electric Vehicle Public Charging Infrastructure Taking Form
October 25, 2018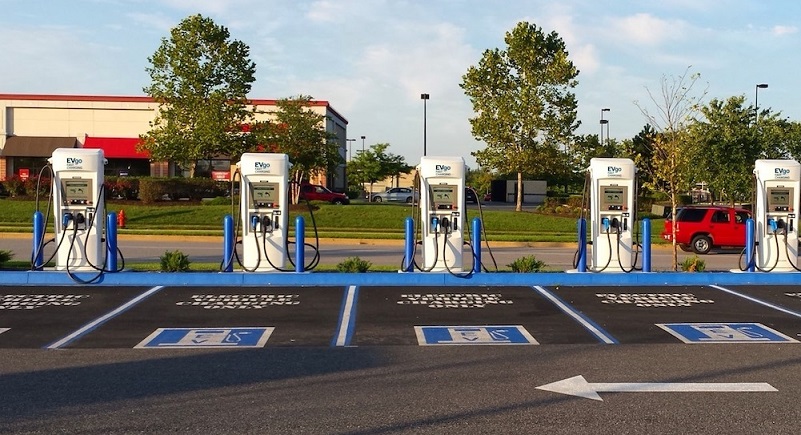 After a slow start, sales of battery-electric vehicles are beginning to gain some serious momentum this year. Industry analysts are crediting the growing availability of longer-range and, in many cases, more affordable options.
There is still the challenge of nationwide public charging stations that needs be addressed before mainstream customers truly feel comfortable with these electrified options.
When the first plug-in hybrids debuted nearly a decade ago there were an estimated 1,000 to 2,000 public charging stations across the entire U.S. But, Chargepoint, the nation's largest supplier of charging systems, now says it alone has about 60,000 public charging stations available and, when including home chargers that number will likely reach 2.5 million by 2025.
Chargepoint currently holds a 70% share of the charger market, but competitors are rapidly expanding their public presence, as well.
Earlier this year, Walmart Inc. announced it will partner up with Electrify America to set-up 100 fast-chargers at stores in 34 states by mid-2019. That is part of 2,000 chargers Electrify America aims to have in place by then at 500 stations across the U.S. This week, the start-up announced it will install the first network of chargers on the Ohio Turnpike, a key part of Interstate 80, one of the country's most heavily traveled cross-country highways.
This collaboration with the Ohio Turnpike is a key element to creating cross country routes with ultra-fast chargers," said Brendan Jones, chief operating officer of Electrify America. "EV drivers need fast, reliable and convenient charging access in order to travel about the country."
Significantly, the new chargers will range up to 350 kilowatts, allowing vehicles capable of handling that much power to top off their batteries at a rate of as much as 20 miles per minute. That begins to approach the speed of a conventional gas pump, addressing another key concern with electrified vehicles.
"A year ago, when people asked why customers aren't buying electric vehicles, our response was that they just didn't like what was being sold," said Pasquale Romano, the president and CEO of Chargepoint, who insisted that "the lack of an electric vehicle infrastructure had nothing to do with (slow sales)."
Not everyone is ready to buy that position, but there is little doubt that the availability of vehicles that can deliver 200 miles or more between charging should reduce consumer worries about having to constantly find a place to plug in.
And industry research suggests that consumers will most often charge up their vehicles at their homes or offices, something that would actually offer an advantage to driving an EV: the ability to have a full "tank" most of the time.
Public charging stations, Romano and other experts believe, will mostly be used by commercial drivers who might clock extensive mileage every day, as well as consumers traveling long distances. As a result, the Charegpoint CEO contends, "You won't need nearly as many (public) charging stations as you have gas stations today.
The largest of the U.S. charger companies is taking another step to try to ease customer concerns. Currently, EV owners have to worry about signing up to use public chargers. And, if they need to plug into one that is not part of their network they may be hit with exorbitant fees.
Earlier this month, Chargepoint with FLO, Canada's largest provider, that will let travelers plug in without service fees and surcharges. The California-based company has struck similar arrangements with other U.S. charging services under the expanding Open Charge Port Interface, or OCPI, protocol.
The goal is to make it as easy and as transparent to charge up as it is for motorists today to pump gas at any service station, according to Romano. In fact, he told TheDetroitBureau.com, that the Charegpoint website's map of available charger locations does not differentiate between brands.
Experts caution there are still some notable gaps in the public charging infrastructure across the U.S., especially in rural states like Montana, Wyoming and the Dakotas. The other big challenge will be to set up charging capabilities for urban dwellers, especially in dense cities like New York and San Francisco. But regulators are beginning to take steps to address that problem, as well. In some cities, such as Santa Monica, they are requiring a set number of chargers be installed in new apartment lots and in public garages.
With thousands more public stations scheduled to come on line by the end of the decade, the problem of finding a place to plug in could soon become a thing of the past.
Eisenstein, Paul. (2018). "Nationwide Charging Infrastructure Rapidly Falling into Place". Retrieved from http://www.thedetroitbureau.com/2018/10/nationwide-charging-infrastructure-rapidly-falling-into-place/.