Manufacturing Breathing a Sigh of Relief – For Now
April 05, 2019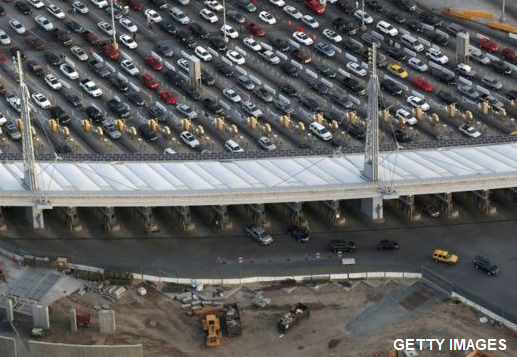 President Trump is backing down from his threat to shutdown the U.S. southern border.
Instead, Trump is now giving Mexico a one-year warning to address his concerns about immigrants traveling through the country on the way to the United States.
A Trump administration shutdown of the U.S.-Mexico border would quickly hit the economy. Prices would soar for many goods and manufacturing production lines would suffer, if not shutdown. The impact would be widespread because the supply chains of U.S. and Mexico are so tightly integrated.
The U.S. imported $346 billion in goods from Mexico last year and exported $265 billion in products to the country. Of the $611 billion in trade between the two countries, $502 billion crossed the border in trucks and trains last year, according to the Commerce Department.
More than 13% of all U.S. imports come from Mexico, with some products making up an abundant share. Shipments from Mexico comprise more than a third of all auto and auto-part imports, nearly half of imported vegetables and 40% of imported fruits, according to the Peterson Institute and the U.S. Department of Agriculture.
Even a prolonged shutdown that lasts a few months would likely shave quarterly U.S. economic growth by just two-tenths of a percentage point, still fairly modest, says Gary Hufbauer, senior fellow Person Institute for International Economics. A shutdown, he says, could have broader effects by hurting business confidence.
Importantly, 5 million American jobs depend on border trade, according to the U.S. Chamber of Commerce.
Here is what the border closing would mean for the automotive industry-
A border shutdown would be "devastating" to American auto companies, their workers, auto parts suppliers and regional economies throughout the Midwest, Texas and California, industry experts said this week.
Not only do parts come into the U.S. from Mexico, but 37% of U.S. parts are exported to Mexico, said Kristin Dziczek, vice president of industry, labor and economics at the Center for Automotive Research in Ann Arbor, Michigan. A disruption in the supply chain risks shutting down factories and bigger production operations that can't easily restart. It affects hundreds of thousands of people immediately, she said.
"We have seen Mexico earthquakes, coastal labor disputes at ports of entries and tsunamis. All pale in comparison to the impact a prolonged border shutdown would have on suppliers, dealers and industry employees," said Jeoff Burris, founder of Plymouth, Michigan-based Advanced Purchasing Dynamics, a supply chain consultant to auto suppliers primarily in North America.
What is imported from Mexico has grown over the years from labor-intensive items like wire harnesses and cut-and-sown seat covers to almost every type of automotive component, including engines, axles and transmissions.
"A shutdown would be disastrous for hundreds if not thousands of suppliers on both sides of the border," Burris said.
Moreover, the impact of shutting down the border would be almost immediate, and would be of a magnitude that would make it difficult and expensive to develop alternatives for moving product, he said.
Very simply, Dziczek said, a border shutdown would shut down all U.S. auto manufacturing within a week and "crash the economy."
"This will impact anyone who buys anything at a supermarket, has a job in manufacturing or distribution, has a family member or loved one who works in those areas or is worried about the U.S. economy not being tipped into a recession," said economic analyst Jon Gabrielsen, who advises the auto industry and suppliers.
Paul Davidson and Ziati Meyer. (2019). "If Trump closes Mexican border, avocados could cost more and auto factories could shut". Retrieved from https://www.usatoday.com/story/money/2019/04/02/trump-mexican-border-threatened-shutdown-would-raise-avocado-prices/3344041002/.