Democrats May Control NAFTA's Fate
November 12, 2018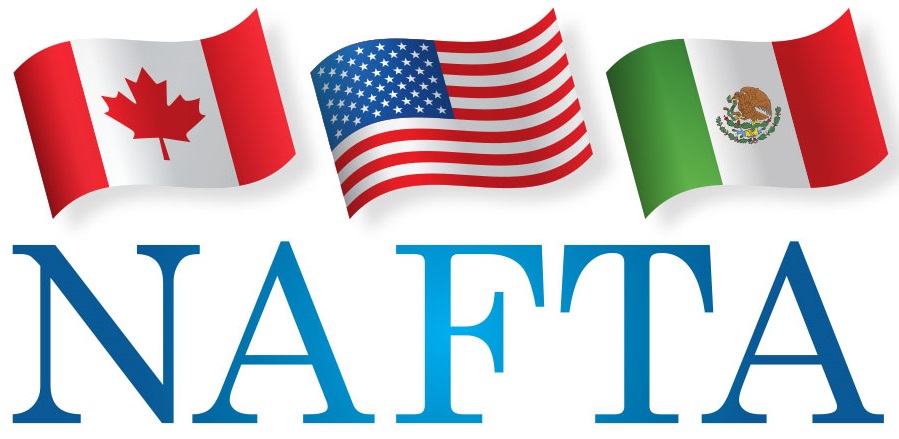 November elections are finally complete and now the fate of President Donald Trump's proposed replacement for the North American Free Trade Agreement may rest in the hands of Democrats who won control of the U.S. House of Representatives last week.
Reclaiming the House for the first time since 2010, Democrats may be disinclined to help Trump enact his trade agenda. But after making gains in such Midwest states as Michigan that were central to Trump's 2016 victory, Democrats may also see an advantage in hewing closely to the president's protectionist stance that is popular with most unions.
U.S. Rep. Debbie Dingell, D-Dearborn, said the proposed replacement for NAFTA, known as the United States-Mexico-Canada Agreement, is likely to be front and center for the new Democratic majority in the U.S. House after they take office in January.
"I don't think anybody is going to bring it up in the lame duck," she said, referring to the period between an election and when lawmakers return home for the holidays ahead of the new Congress being sworn in. "They'll bring it up next year."
Dingell, who is a member of the House Energy and Commerce Committee, said Democrats themselves are still sorting through Trump's proposal to replace NAFTA. She did not offer an opinion on which way the party might go after it takes power in January.
"People are starting to look at the details," she said. "This is not front-and-center for anybody right now."
U.S. automakers have expressed relief that the Trump administration was able to strike a deal to maintain a trilateral trading relationship. But they have expressed concern the agreement does not do enough to shield Canada and Mexico from steel and aluminum tariffs that have been imposed by Trump.
Nicholas Coutsos, chief of staff for American Automotive Policy Council, which lobbies for General Motors Co., Ford Motor Co. and Fiat Chrysler Automobiles, said in comments submitted to the U.S. International Trade Commission ahead of a Nov. 15 public hearing that U.S. automakers still are reviewing the proposal, but they "believe the new agreement will help the U.S. auto industry remain competitive in the global marketplace and continue growing jobs here at home."
Coutsos added that the group remains concerned that an agreement has yet to be reached to resolve the issues surrounding the steel and aluminum tariffs recently imposed by the Trump administration on Mexico and Canada.
Trump has said he intends to sign the new agreement by November and submit it to Congress for approval. By law, the administration must publish the text of a new trade agreement for 60 days — which it did in August — before the president signs it. Following the signature, the U.S. International Trade Commission will have up to 105 days to analyze the impact of new trade agreement on the U.S. economy, which would likely push Congressional approval into March 2019.
The proposed agreement calls for increasing from 62.5 percent to 75 percent the percentage of a car's parts that have to come from the U.S., Canada or Mexico to qualify for duty-free treatment. Additionally, the USMCA requires that 40-45 percent of an auto's content be made by workers earning at least $16 per hour.
It contains provisions to protect up to 2.6 million cars and $32.4 billion worth of parts imported from Canada and Mexico from tariffs on imported vehicles that are being considered separately by the Trump administration. Vehicles not meeting the requirements would be subject to a 2.5 percent duty.
Absent a push by the Trump administration to speed up the clock for the trade commission review, the agreement the president has touted as a fulfillment of a major 2016 campaign pledge would fall to the Democratic-led House that will be sworn in the first week of January.
Democrats might also choose to weigh in on Trump's decision to impose tariffs on foreign steel and aluminum. The White House is also considering new levies on imported cars, although Democrats' close ties with unions may make them reticent to pick a fight.
U.S. manufacturers have railed against the metals tariffs because of the added cost for making products.
Asked if Democrats are going to look at passing legislation to undo the tariffs that have been implemented by Trump, U.S. Rep. Dingell said "we're going to look at everything."
In his first public remarks after Tuesday's votes were tallied, the president expressed  hope that trade can be an area where he can reach bipartisan agreement with newly empowered Democrats.
Charlie Chesbrough, senior economist and senior director of industry insights for Cox Automotive, said Democrats' close relationship with unions will likely complicate the politics on the USMCA and other trade agreements that are renegotiated by Trump.
"Democrats in general are on the side of labor, and the higher content requirements (for domestic parts for autos) and higher wages are welcomed by unions and workers in the U.S.," he said. "In general, the treaty is popular. I don't see a reason they would want to open that can of worms."
Unions have cast a wary eye toward the USMCA, arguing the Trump administration's proposal does little to ensure the Mexican government will enact wage increases that are prescribed in the new deal.
In comments submitted to the ITC, the AFL-CIO said the renegotiated trade agreement  "begins to take a new direction in some key areas," but it also locks in provisions that it took issue with in the previous iteration of NAFTA.
"Given the government of Mexico's history of policies that purposely undermine wages and obstruct the rights of workers to organize and bargain collectively, the USITC should not assume that the mere presence of such obligations will effectively promote changes to law and practice," the AFL-CIO said.
Automakers have urged the ITC to consider the potential impact of the proposed changes to rules for percentage of a car's parts that have to come from the U.S., Canada or Mexico to qualify for duty-free treatment.
"U.S. automakers will need to establish new and elaborate processes to ensure compliance with these rules," John Bozzella, CEO of the Association of Global Automakers that represents foreign-based manufacturers, said in comments of his own submitted to the ITC.
He said the commission should consider the consequences if automakers find themselves unable to comply with rules of origin because of cost or other reasons.
If the USMCA is approved, it will be subject to review in six years and will end in 16 years unless all three countries agree to another 16-year renewal.
The Trump administration is also moving to re-open trade agreements with Japan, the United Kingdom and the European Union. Democrats likely will have a bigger say in the fate of those deals as well.
Laing, Keith. (2018). "Fate of Trump trade agenda likely to rest with Democrats". Retrieved from https://www.detroitnews.com/story/news/politics/2018/11/12/fate-trump-trade-agenda-likely-rest-democrats/1932106002/.