Connecting Our Nation's Heroes to Manufacturing Careers
July 01, 2019

Every year, more than 200,000 U.S. service members return to civilian life. These are men and women who put their talents to work in a mission larger than themselves, accustomed to working in teams toward common goals and in possession of skills and talents that would make them excellent additions to any manufacturing team. So, at a time when the manufacturing industry is facing a workforce crisis, why would we not connect our nation's heroes to rewarding manufacturing careers? Manufacturers get top-quality talent, and service members get top-quality career opportunities—it's a win-win.
The Manufacturing Institute launched Heroes MAKE America to build a pipeline between the military and manufacturing. Our signature program is a full-time Department of Defense–approved career skills program aimed at connecting manufacturers with highly qualified candidates. Our program arms those participants with the exact in demand qualifications and industry-specific certifications they need to not only find a perfect manufacturing career but excel in it.
Heroes MAKE America is open to soldiers within their last six months of military service, veterans and military spouses. Heroes enrolls transitioning service members while they are still on active duty, enabling them to continue to receive military pay and benefits.
Program Highlights:
Approved Department of Defense SkillBridge Program.
Up to 10 weeks of accelerated training.
Certifications include Certified Production Technician, OSHA 10 and Fork Lift Operation.
Essential manufacturing credentials: safety, quality, maintenance, manufacturing processes and production.
Weekly modern manufacturing tours.
Career readiness instruction–resume writing, interview skills, LinkedIn training.
Placement Support–connections and guidance during career search and interview process.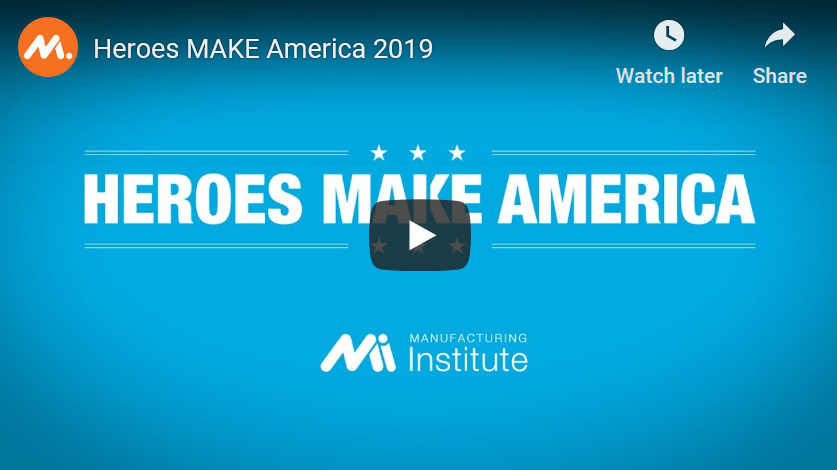 A Personal Story:
As a production scheduler for Mars, Incorporated, Thomas Schlieper has a hand in sending sweet treats all over the world.
In some ways, it is very different from his former career. As a teenager, Schlieper joined the Army National Guard because it offered benefits like tuition assistance and scholarships that would help him go to college. When he finished school, he worked in his hometown and eventually decided to go into active service in the U.S. Army. That career spanned two decades and helped lead him to the manufacturing job he enjoys today.
While Schlieper served as an Army senior supply specialist, he enrolled in the Manufacturing Institute's Heroes MAKE America program, which aims to connect manufacturers with highly qualified candidates and offer transitioning service members manufacturing-related training and support, thus creating a pipeline between the military and manufacturing. Through this U.S. Department of Defense-approved program, he toured the Mars production facility in Topeka, Kansas. Mars recognized his logistics experience and offered him a production scheduler position, which he accepted in February 2019.
"I served 20 years as a logistics guy," he said. "Ordering supplies, making sure soldiers in the Army had what they needed. The leadership skills I learned in the Army helped me adapt to this new role."
Schlieper recalls the stress he felt during his first day on the job at Mars, when he wondered whether he was up to the challenges of his new role—and the moment when it all clicked.
"My first couple days there, after I did the orientation, I was overwhelmed," he said. "I thought, am I getting over my head? I was just a soldier, and now I'm something different."
He was shadowing another employee when he suddenly realized that the system he would be using as a production scheduler at Mars was exactly the same system he used every day when ordering supplies and managing logistics in the Army.
"I looked at the system, and I was totally relieved," said Schlieper. "All that stress went away, and I was like, I know this. I can do this."
Today, Schlieper is deeply immersed in his new industry. He feels it is a good fit for former members of the military, who will have an easier learning curve as a result of their training.
"Before I retired, some people I knew thought manufacturing jobs were jobs nobody wanted," he says. "But that's really not the case. It's completely different. It's a whole new world.
For more information or sponsorship opportunities for the Heroes MAKE America program, please contact Babs Chase at BChase@nam.org. Or, if you are interested in the manufacturing industry working with Sustained Quality Group, complete our Career Inquires for Internal Positions form.
NAM News Room. (2019). "Heroes MAKE America Student Goes from Army to Mars". Retrieved from https://www.nam.org/heroes-make-america-student-goes-from-the-army-to-mars-5153/?stream=business-operations.