China Temporarily Suspends Punitive Tariffs on U.S. Cars and Auto Parts
December 17, 2018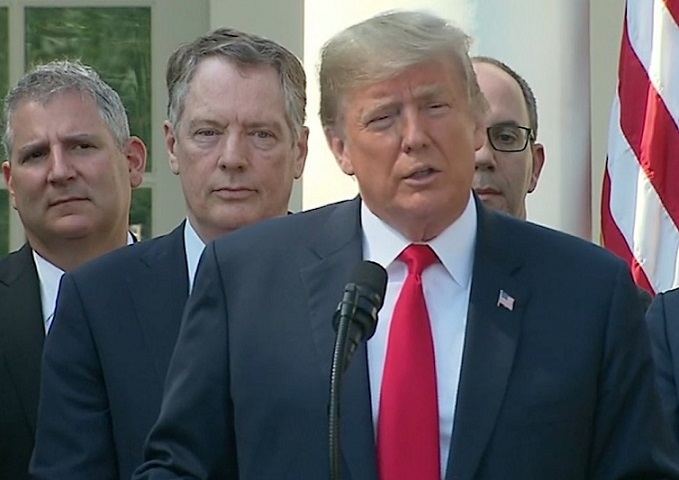 Shortly after U.S. and China declared a truce, China offered a goodwill gesture to smooth trade negotiations.
For three months starting January 1, cars imported from the U.S. will no longer be hit with an extra 25% tariff, while extra levies of varying rates on auto parts will also be removed, according to a statement released by the Finance Ministry on December 14. Cars imported from the U.S. will face a 15% tariff and auto parts a 6% tariff, the same rates applied to imports from other countries.
The easing of tariffs on U.S.-made cars and parts is part of Beijing's effort to generate momentum toward a trade deal with Washington. President Xi Jinping and President Trump, meeting on the sidelines of a recent multilateral summit in Buenos Aires, agreed to a 90-day tariff truce to give breathing room to negotiations.
President Trump and senior administration officials have previously said Beijing would remove the auto tariffs. Still, the concession is a notable one for Beijing: U.S. automobile exports to China totaled $9.5 billion last year, according to the U.S. Department of Commerce, topped only by aerospace and agriculture exports.
The Chinese government cited the agreement reached by Messrs. In total, 211 types of cars and auto parts will be exempt from the penalties, according to information from the Finance Ministry.
Companies likely to see immediate benefits from the suspension include Tesla Inc. and Ford Motor Co. , as well as German auto makers BMW AG and Daimler AG , which build sport-utility vehicles in the U.S. for export to China. The combined 40% border levy on U.S.-built cars hit the German firms hard, causing them to weigh moving some production out of the U.S. to China to meet local demand there and avoid the tariffs.
China imposed the extra levy of 25% this July in retaliation for U.S. penalties on imports of vehicles, part of the tit-for-tat that has seen the government place tariffs on goods covering about 60% of the countries' total trade.
As part of the tariff cease-fire, the U.S. agreed to delayed a plan to raise tariffs on $200 billion of Chinese goods to 25% from 10% on Jan 1. That concession was widely publicized by Chinese officials and state media, though they were initially silent about what China agreed to do in return.
On the U.S. side, a stream of presidential tweets and statements from senior U.S. officials have said Beijing agreed to the auto tariff cut as well as to increased purchases of American agricultural, energy and other products.
President Xi's economic envoy, Vice Premier Liu He, told senior U.S. officials about the tariff reduction in a phone call, according to people familiar with the discussion.
Beijing is also making other efforts to try to settle the trade dispute. State-owned Chinese companies including Cofco and Sinograin in recent days have resumed their purchases of U.S. soybeans.
Chinese officials are working on a new industrial policy to replace the Made in China 2025 plan, said people familiar with the matter. The state-led industrial policy—aimed at enabling Chinese companies to dominate industries from robotics to electric vehicles and mobile internet networks—is a focal point of U.S. complaints that Beijing engages in unfair trade practices that put foreign firms at a disadvantage.
Zhu, Lin/Wei, Lingling. (2018). "China to Suspend Punitive Tariffs on U.S. Cars and Auto Parts for Three Months". Retrieved from https://www.wsj.com/articles/china-to-suspend-punitive-tariffs-on-u-s-cars-and-auto-parts-for-three-months-11544800051.