Additive Manufacturing's Future Impact on Automotive Product Design and Development
July 31, 2019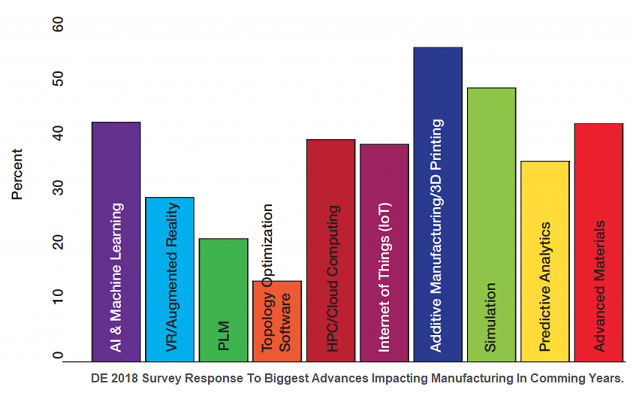 Additive manufacturing (AM) technology is being adopted across many different industries, providing unique advantages and challenges for each. The automotive and aerospace and defense industries were the two largest markets for additive manufacturing in 2018, according to ARC Advisory Group research. Combined, these two industries accounted for more than one-third of industrial system sales by revenue. Here, we'll focus on the technology's impact on the global automotive industry.
Prototypes and Development
Many car manufacturers and automotive suppliers still use AM technology only to develop and produce functional prototype components and design samples. This drastically reduces development times and costs, but it does not support mass production.
The 3D printing of tools used in traditional manufacturing processes is developing rapidly. This offers tremendous potential for automotive OEMs and tier-one suppliers alike, since it can significantly shorten development cycles. As a result, AM could help the automotive industry optimize the capital-intensive development of new products. Contrary to popular belief, AM is not the holy grail when it comes to reducing costs, and cost reductions are not the main justification for implementing AM. The advantages of AM lie elsewhere, namely in the ability to produce complex and/or light-weight structures. Because of this, AM will not entirely replace traditional manufacturing methods in the automotive industry, but complement them.
Quality, Process and Automation
AM must still overcome several hurdles related to quality assurance and productivity. Currently, there is a low degree of automation in AM, where process stability is not always guaranteed. But several industry initiatives aim to overcome these hurdles.
These include the NextGenAM project in Germany, a joint initiative between automotive supplier Daimler, aerospace supplier Premium Aerotec, and technology provider EOS. The project aims to develop a complete automated system that produces aluminum components for the automotive and aerospace industries. The project's pilot plant consists of machines for additive production, post-processing, and quality assurance. The plant automates and integrates the interactions between most steps in the process, enabling complex, lightweight components to be produced automatically with a high degree of stability.
Post-processing costs remain a big issue. Most of today's AM technologies require separate post-processing steps, although this depends on the application. This can include removing support structures, machining to tolerances, or treating surfaces. Each post-processing step represents additional costs and requires additional tools, manpower, and expertise.
During quality assurance, the reproducibility of the components must be ensured. This can only be achieved by standardizing and safeguarding processes and materials and by further development of the machines, with a focus on reliability and speed. Machines must reach a demonstrable level of technology maturity and be easily integrated into the manufacturer's overall automation environment.
Integration for Series Production
For future series production, AM could support the move away from long assembly lines to island production. Instead of one long production line, manufacturers could use small AM cell units for production.
AM accounts for only 0.05 percent of the total production market in the automotive sector, according to a recent study from the Fraunhofer Research Institution for Casting, Composite and Processing Technology (IGCV). IGCV concluded that 1-5 percent of all components produced to date were suitable for economical additive series production in the short and/or medium term, showing a clear gap between what would be possible today with the available technology and what has already been tapped.
That is why companies and research institutions are working hard to translate 3D printing into industrialized, highly automated production processes for the automotive industry. The Industrialization and Digitalization of Additive Manufacturing (IDAM) project from Germany is a good example of this, with 12 partners laying the foundation for further technological development and integration of AM in series production for the automotive sector.
In the future, the AM production lines should make it possible to produce at least 50,000 components per year in common parts production and more than 10,000 individual and spare parts under the highest quality and cost pressure. By taking a holistic view of the automotive production line, the project participants aim to reduce the manual share of activities along the process chain from about 35 percent to less than 5 percent. In addition, the unit costs of the 3D-printed metal components are to be more than halved.
More Standards Needed
Even though AM processes are still comparatively young, it is no longer possible to imagine the automotive industry without them.
The technology is maturing very quickly, increasing the possibilities of material diversity and applications. These further increase the need for worldwide standards, especially from the end user's point of view. These are necessary to further advance the development of 3D printers and expand the areas of application of AM processes.
Below is a map of key automakers and their use of automotive AM end-use part production application cases. Click on the map to enlarge it.

Source: SmarTech Analysis
Fabian Wanke and Will Hastings. (2019). "Additive Manufacturing Disrupts Automotive Industry". Retrieved from https://www.automationworld.com/article/industry-type/discrete-manufacturing/additive-manufacturing-disrupts-automotive-industry.