2018 JD Power Initial Quality Survey
June 20, 2018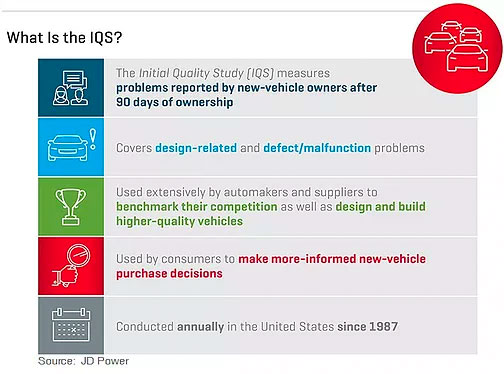 The automotive industry's closely watched gauges of quality gained even more momentum compared to last year. New vehicle quality has reached an all-time high according to the latest J.D. Power Initial Quality Survey (IQS), and the 2018 IQS reveals a number of surprising trends.
The latest IQS, which looks at "things-gone-wrong" with vehicles during the first 90 days of ownership, reveals that traditional mechanical issues, whether powertrain problems or squeaks, rattles and wind noise, are today increasingly rare. Motorists are far more likely to experience issues with infotainment and advanced driver assistance systems, but many of those problems are also being addressed.
"There's no question that most automakers are doing a great job of listening to consumers and are producing vehicle quality of the highest caliber," said Dave Sargent, the head of global automotive research for Power. "That said, some vehicle owners are still finding problems. As vehicles become more complex and automated, it is critical that consumers have complete confidence in automakers' ability to deliver fault-free vehicles."
Traditionally, luxury brands have topped the IQS charts, and a high-line marque leads in the 2018 study, but it's Genesis, the badge spun off by Hyundai just two years ago. Among the top 10 brands on the newest IQS, six are mainstream, with Kia, last year's leader, at second, and Hyundai third overall. Porsche was fourth, with Ford rounding out the top five.
In the IQS, the lower the score the better, as it refers to the number of problems per 100 vehicles, or PP100, reported by owners. The average score for the 31 brands included in the 2018 study is 93, an all-time record, according to Sargent. Genesis experienced just 68 problems-per-100, meaning that, on average, a third of all owners had nothing to complain about on the Power survey form, which addresses dozens of potential issues in eight specific areas.
Korean brands are not the only ones who have something to crow about with the new IQS. Detroit automakers, in general, experienced better-than-industry-average improvements in their quality scores. The typical Fiat Chrysler Automobiles brand saw a 7 PP100 drop in complaints, and the Ram brand landed in the top 10 for the first time ever. But the namesake Chrysler brand was down in the bottom fifth of the study, with a score of 111.
"We are pleased to see that the Company's initial quality improvement has outpaced the industry average for three straight years," said Scott Garberding, FCA's Head of Quality. "We have continued to improve and we have more work to do. We are highly focused on satisfying our customers by continuing to bring new technologies and products to market, with improved quality and reliability."
All three of the Detroit manufacturers landed at least one brand in the top 10. Ford's turnaround is particularly noteworthy. The second-largest of the Detroit makers once advertised that "Quality is Job One," but saw its scores plunge early in the new millennium. That was due, in part, to problems with a new transmission, but it also ran into trouble with early versions of its Sync infotainment technology. The 2018 IQS shows that Ford has largely addressed both issues, most recently with the launch of the next-generation Sync 3 system.
Across the board, the industry has seen a sharp decline in mechanical problems but a surge in issues involving electronics, according to Sargent. The good news, according to the latest quality study, is that infotainment is an area that has shown significant improvements over the last three years, especially when it comes to voice recognition technology.
That said, problems with the new generation of advanced driver assistance systems, such as forward collision warning and blind-spot detection, have been increasing by 20% annually as more of that technology shows up on both luxury and mainstream vehicles.
One European brand landed in the 2018 IQS top 10, with just four scoring above average.
Perhaps a bigger surprise was the overall performance of the Japanese makers who, in years past, routinely dominated the IQS. One-time leader Lexus landed in the top 10 this time, with a score of 84 PP100. Its mainstream sibling, Toyota, lagged below average with a score of 96. Nissan was the only other top 10 Japanese brand, at 85 PP100.
Traditionally, buyers were often advised to steer clear of new products during their first year on the market, but that is one area manufacturers have tried to address and several new or updated models scored at or near the top in their individual IQS segments this year, including the 2018 Mercedes-Benz S-Class.
Eisenstein, Paul A, (2018). "Big Surprises in 2018 JD Power Initial Quality Survey". Retrieved from http://www.thedetroitbureau.com/2018/06/big-surprises-in-2018-jd-power-initial-quality-survey/.