Microsoft and Open-Source Platforms are Changing the Future of Manufacturing
May 15, 2019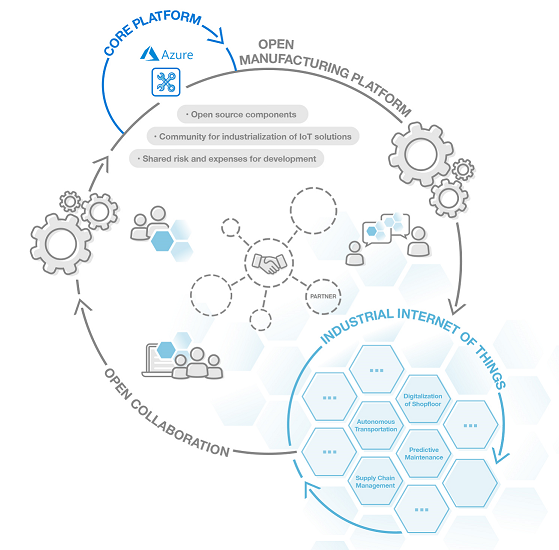 Open-source software is a type of computer software in which source code is released under a license in which the copyright holder grants users the rights to study, change, and distribute the software to anyone and for any purpose. Open-source software may be developed in a collaborative public manner. Open-source software is a prominent example of open collaboration.
While Microsoft has a notorious history of not partaking in open-source platforms, the latest joint announcement with BMW highlights that Microsoft most definitely thinks differently about these platforms and their place in the future.

This growing collaboration between Microsoft and BMW is all about smart factories. It will not be contained to just the automotive industry, plus it might be the thing which helps to revolutionize how all kinds of things are manufactured.
Microsoft Open Manufacturing Platform
In any manufacturing environment, one of the greatest challenges is getting different systems to interface. You can have one machine which has its own proprietary system, as well as fifteen others which also have their own proprietary systems. Those fifteen individual systems might not work well together, meaning integrating them can require all kinds of fancy footwork. As factories become more robotic and incorporate IoT at an increasing rate, these difficulties can literally bring everything to a screeching halt.
As Microsoft explains, its Open Manufacturing Platform exists to enhance the optimization of production and logistics functions in any facility. One of the secret sauces for the platform's success is open source for everything on it. That simplifies things quite a bit, making the manufacturing process easier to manage throughout each factory.
With that common platform, data standardization becomes a reality. In turn, managers can audit performance from a central point through a shared dashboard, plus various data insights are available far sooner since the numbers don't need to be crunched from several systems. It's a simpler way.
By standardizing data models in the shared system, Microsoft says machine learning will also be leveraged in the development of improved manufacturing processes. We do not really know and maybe do not really understand what kind of potential innovations for streamlining which could result from this collaboration, but it will be interesting to find out.
This Open Manufacturing Platform is actually built on the Microsoft Azure industrial IoT cloud platform. That means no messing with a completely new system, since it's something that's been gone over and "perfected" for a while now.
The Partnership
You should know BMW and Microsoft already have a pretty embedded relationship. That is not really shocking, considering Microsoft has been making inroads with quite a few enterprise-level organizations in recent years.
As the automaker has proudly declared, it runs over 3,000 different machines, robots, and even factory autonomous transport systems using the BMW Group IoT platform. All that, naturally, is built using the Microsoft Azure cloud, IoT, and AI capabilities.
With this unique position, BMW is poised to provide certain use cases first in the Open Manufacturing Platform. The automaker claims all this tech has helped to simplify its logistics operations. Considering the company has 30 manufacturing facilities spread around the globe, even a little improvement can make a huge impact on production.
Another way BMW intends to help is by sharing tech it has developed. One example is the self-driving systems the automaker uses, enabling for autonomous transport of supplies and parts throughout different manufacturing facilities.
While it is contributing to this new community, BMW hopes to get some valuable info out of the partnership. One area it wants to improve is predictive maintenance for production machinery. More efficient and effective digital supply chain management and digital feedback loops are also on the automaker's wish list.
Beyond Cars
The best part of this solution, according to Microsoft and BMW, is that manufacturers who participate in the community will retain their own intellectual property. This means the open platform does not lead to selling all your organizational secrets or what makes your products unique, yet you still benefit from pooling strategic knowledge with everyone else in the community.
BMW and Microsoft are saying the first partners to jump on the platform do not need to have anything to do with the automotive industry. They just should be manufacturers or suppliers, that is it.
What Microsoft and BMW are aiming for is four to six partners by the end of 2019. This cross-industry community would be tied together by their desire to optimize the production processes at their own facilities. Hopefully they will be working on about 15 use cases by the close of the year to develop hardware and software for the Open Manufacturing Platform.
This is not to say more automotive industry partners are not welcome. While other automakers might feel some trepidation about jumping on a platform with BMW, a direct competitor, parts suppliers, aftermarket component companies, and others might find it to be an excellent fit.
The Future
Automakers teaming up with tech companies isn't unheard of these days, but many times that collaboration hasn't gone beyond only certain areas of the business, namely infotainment systems. Those boundaries are being stretched more lately, thanks to the growing integration of advanced technologies in vehicles, but this collaboration is pushing things pretty far.
Thanks to Tesla and other startups really pressuring the bigger players in the industry, expect more automakers to get on board with advanced enterprise level solutions for their operations. It is what will be necessary to stay competitive.
Symes, Steven. (2019). "How BMW Manufacturing Plants are Using Open Source Platforms". Retrieved from https://blog.grabcad.com/blog/2019/05/14/how-bmw-uses-open-source-platforms/.